Recent Photos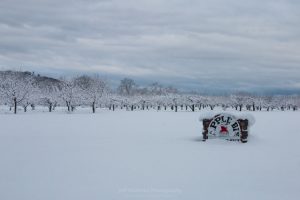 The sign from a local farmer's market in front of their orchard offering the only bit of color in a winter landscape after a Nor'Easter.
---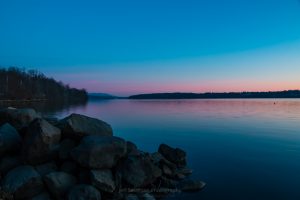 Looking North up the Hudson River from Scenic Hudson's Lighthouse Park in Ulster Park as dawn breaks over the Hudson Valley on a March morning.
---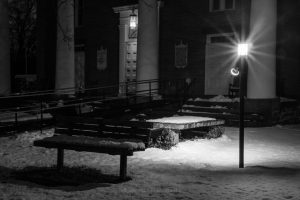 A black & white shot of a snow covered bench and light in front of the Reformed Church of New Paltz on Huguenot Street on a March evening.
---
Recent News / Announcements
I currently have 2 photographs hanging at the Esopus Town Hall as part of the Ulster County Photography Club's "What A Wonderful World" exhibit. The first photo on display is "Overlook Pavilion in Autumn." The photo of the Overlook Pavilion at Scenic Hudson's Poets' Walk Park in Red Hook was taken last Fall on October […]
---
I'm happy to announce that my photo, "Signs", appears in the Spring 2017 print edition of Visit Vortex Magazine as well as on their website. My photo is featured in their article "Spring Walks" on page 13 of the magazine.
---
I'm happy to announce that my photography is now on display at the Hudson Valley News Network (HVNN) which is located at the Dutchess County Airport!
---